First Korean Exchange to List NEO… CoinNest
Just a few hours ago, CoinNest announced that they would be adding NEO to their exchange tomorrow (September 28, 2017). Could this push NEO back over $40?
Additional Information
This will the very first exchange that will have the NEO/KRW trading pair, so a large increase in volume from Korea could mean more price jumps!
Another exchange will also be opening in October that will include NEO too. This is just the beginning for NEO, and as more exchanges add it, the more volume will flow into it.
Just recently, we've seen a surge in people searching for CoinNest on Google. The popularity is rising for CoinNest and this could be due to the fact NEO is going to be listed tomorrow.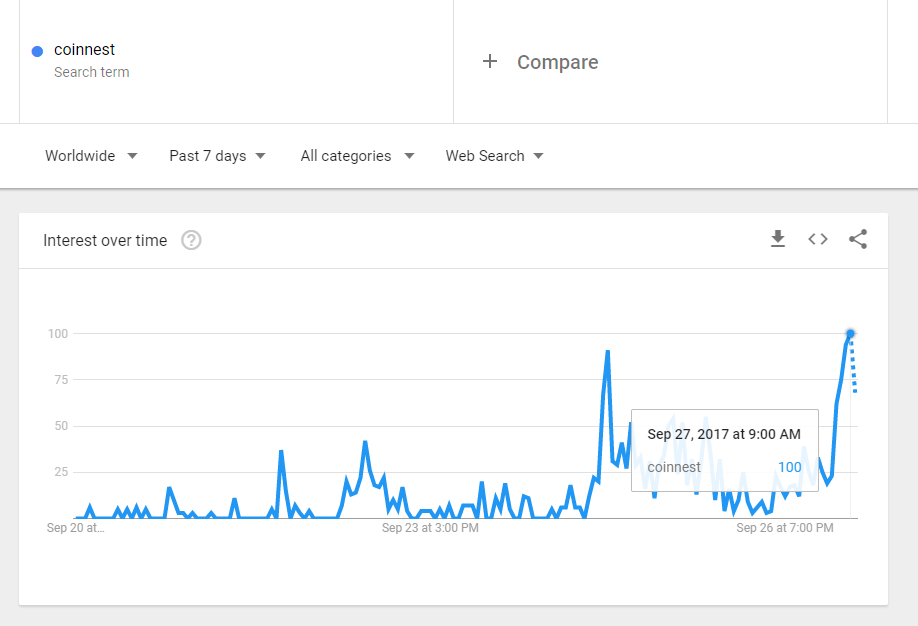 Will This Push the Price of NEO Up?
Honestly, it's hard to say. Some sources say that the volume form CoinNest is relatively low compared to some of the larger exchanges in Korea. I think if the demand for NEO is the same as it is in China and in the West, it could bring in a lot of new money from Korea.
Usually when coins are added to a big exchange, it'll cause a movement (usually positive) because the volume is increasing.
This situation is a little different. This trading pair is using the South Korean Won (KRW), meaning people can directly buy NEO with fiat (KRW) - eliminating the middle step of obtaining Bitcoin first - making it so much easier for newcomers to purchase NEO.
Overall this is great news for NEO, and I expect to hear more good news soon!