Upcoming ICOs to Prepare For [October 2017 Edition]
Initial Coin Offerings (ICOs), have become a topic of much debate in the cryptocurrency community. Almost all the ICO's that have surfaced are only an idea, and they're asking for millions of dollars before any proof of concept exists. However, if the team looks good, and the idea seems doable, than investing in the ICO could bring a good ROI. The following are a few ICO's that I think have good potential. Don't use this article alone to decide weather or not you should invest in the mentioned ICO's. This is not intended to be used as any form of investment advice, that's what our CryptoSig service is for.
If you dont know what an Initial Coin Offering (ICO) is, here's an article about that.
All of these ICO's will be beginning in the month of October. Currently, October seems like a slow month for ICO's, there's not too many that catch my attention. However, If I happen to find another one after this article is published, I will add it on.
Red Pulse Token (RPX)
Red Pulse is the very first project to use the NEO blockchain. Most ICO's use Ethereum's blockchain since it's the most popular at the moment.
The ICO will begin on October 8 at 0900 EDT / 1300 GMT / 2100 HKT. Since you can only use NEO to buy into the ICO, the demand for NEO will increase. Hopefully, we'll see a nice bump in the price of NEO in the days leading up to the token sale.
Red Pulse is creating a groundbreaking research content platform that simplifies incentives and directly compensates research producers for their valuable insights, while ensuring research consumers can access the research that is most relevant to them. The RPX token is the underlying currency used to facilitate this ecosystem, and provides token holders with direct participation in the rise of China.
In simpler terms, Red Pulse provides timely, relevant and actionable information and analysis on China to be used by finance professionals and accredited investors.
Unlike most ICO's, Red Pulse actually already has a working platform that people are using. It was launched in 2015 and is apparently being used by "leading financial institutions and Fortune 500 corporations".
---
Website | WhitePaper | ICO Page
---
AirToken (AIR)
AirToken wants to tokenize mobile access for the under served. The team wants everyone to have unrestricted access to the mobile internet.
Founded by ex-Googlers Victor Santos and Sara Choi in January 2016, AirFox quickly established itself as the leader in affordable data plans for US-based prepaid wireless carriers. Incubated at Harvard's Innovation Lab, AirFox is a TechStars Boston alumni and is venture backed by Project 11, Launch Capital, and NXT Ventures, among others. With the launch of its ICO and new blockchain consumer platform, the company is on a mission to enable unrestricted mobile access to the internet for anyone with a prepaid smartphone. AirFox's free Android apps, AirFox Browser and AirFox Recharge, enable users to earn AirTokens, a new cryptocurrency, by viewing advertisements on their devices, completing offers, and browsing the internet. AirTokens are redeemable for mobile data and, eventually, goods and services.
AirFox aims to create up to $21 million of AIR for sale in exchange for ETH. The maximum number or AIR minted will be 1.5 billion (1,500,000,000).
The token sale will begin on October 5, 2017 and will stay open for 30 days, or until 1,500,000,000 AIR is minted.
---
AirFox Website | WhitePaper | ICO Page
---
Boulé (BOU)
Boulé now has the ability to bring voting securely online and make elections verifiable. The technology is designed to make voting accessible to everyone and allows to express a digital vote for any kind of poll.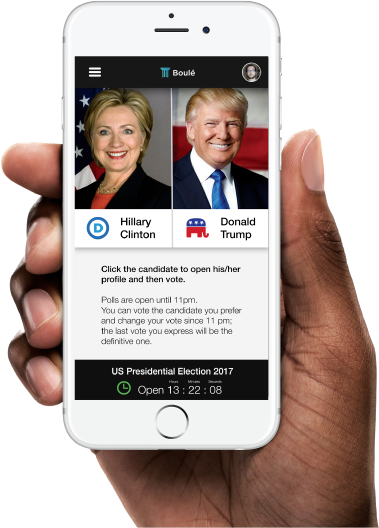 From their whitepaper: "In the future hopefully not too far, we will be able to use internet and express our opinion on any kind of ballot simply using our phone in a totally safe and secure way. Time has passed since the first election took place in the ancient Greece and it is now time to start creating a new voting system that will change the face of our democracies forever. Imagine a world where we can express the right to vote from everywhere, in a safer way than the old system currently adopted, without the obligation to be physically in the place that hosts the election: you will just vote from home using your phone or computer."
The ICO will begin on October 25, 2017 and will run for one month or until they reach their hard cap of 300,000 ETH.
---
Website | WhitePaper | ICO Page
---
Privatix (PRIX)
It's a win-win strategy - if you're not using your Internet connection at the moment – just sell it in a few clicks.
Privatix is an established and profitable company that was founded by a group of experienced IT entrepreneurs and talented developers who are passionate about the freedom of the internet, online security, and the rights of individuals and businesses to privacy protection.
First Internet Bandwidth Marketplace powered by P2P VPN Network on Blockchain with its own crypto-economy. Based on Blockchain, the network will contain thousands or even millions of exit nodes around the world and will provide an innovative new way for developers to build products that will potentially disrupt several markets, like the consumer VPN industry, cyber protection, CDN, business intelligence and even software and mobile apps monetization.
In a press release by the Privatix team, they mention: "Imagine how many hours a day, when you are asleep or when you are out for a job, your bandwidth stands idle, even though it is already paid for. What if everyone from little kids, going to sleep early, to Internet hosting services and businesses could sell unused capacity with a few clicks and no risks?
Yes, this is beneficial both for those who would like to earn extra money, and for those seeking for bandwidth. Privatix software will allow its' users to do it with no technical knowledge."
This is similar to the file sharing idea of Storj and Sia. If you are not using your hard drive space, you can sell it in a few clicks. If you need additional hard drive space, you can buy some. The same thing applies for Privatix, but instead of "selling" (renting out) your hard drive space, you are selling your bandwidth. When you want to be "protected", you can buy bandwidth.
Token Sale starts on October 19, 2017 at 14:00 UTC. Their presale sold out in only 3 minutes!
---
Website | WhitePaper | ICO Summary
---
That concludes the ICO list for October 2017. If you have any recommendations or suggestions, please email us, or use the comment box below to get in contact.