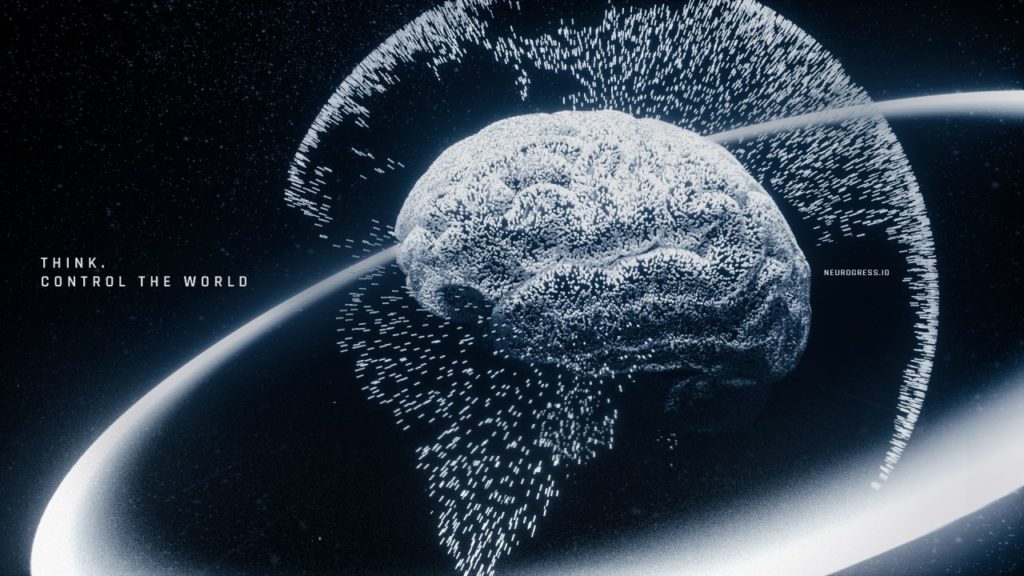 Neurogress is building a decentralized platform of neural control systems to make a control of electronics and machines as easy and natural as never before.
Neurogress develops software for neuro controlling electronics and machinery. Neuro controlled devices allow humans the ability to control the world directly using thought. Neurogress plans to develop an entire ecosystem of neuro controlled devices based on its software platform. The company's goal is to revolutionize the way in which humans interact with technology and transform how people bring their creative and intellectual pursuits to fruition.
Neurogress Website | Neurogress Whitepaper
ICO Starts: February 10, 2018 | Cost per Token: 0.0014318 ETH
---
Company Overview
Neurogress started testing neurocontrol software on a dummy prosthetic arm in October of 2017. The project is more than a concept and has taken shape into a true company with tangible results. Neurogress invisions a place for neurotechnology across all industries, with eventually $1 trillion dollars being spent on neurotechnology in the year of 2025. Neurogress is leading the charge in creating a platform for others to develop neuro controlled devices that will be ran off of the company's software.
Token Sale
Under the code NRG, Coinvest will be issuing 100,000,000 tokens total. Out of the 100 million tokens only 50,000,000 will be for sale.
Crowd
The 50% of NRG tokens for sale (50,000,000) will be distributed during the private placement, Pre-TGE, and TGE. The distribution is demonstrated by the graph below.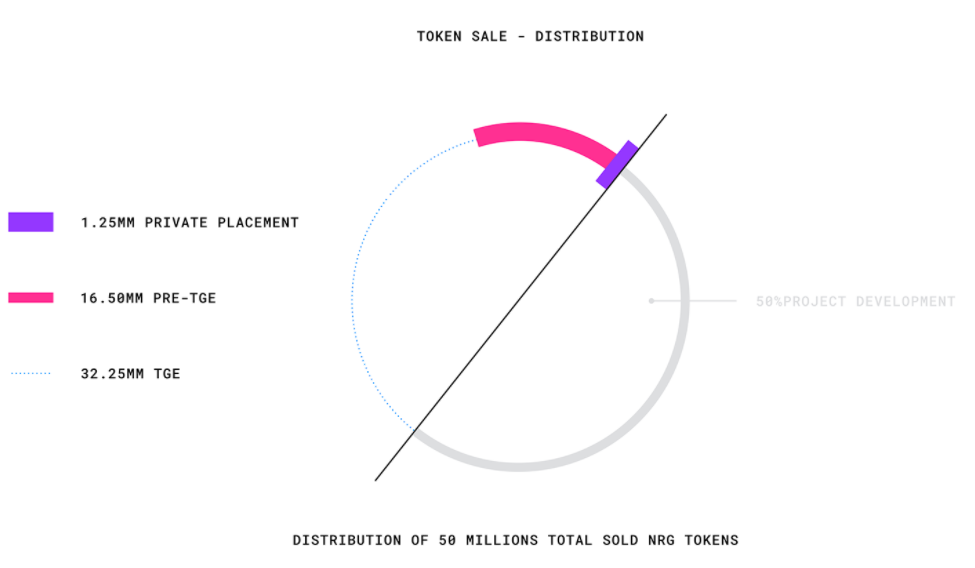 NRG Team
The remaining 50% of the tokens not for sale will specifically be used for project development. Inside of the 50% a total of 25% NRG tokens will be utilized to motivate Neurogress developers and members of the board, as well as developers of the Neurogress ecosystem and marketplace.
Reserve/Long Term Expenses
A further 10% of the NRG tokens will be retained as contingency, while another 10% will be put in place to co-invest in other blockchain projects owned by Neurogress, along with the project and infrastructure of Neurogress itself.  
Commercial and Technical Strategy

Much like any initial coin offering, the funding that will be acquired during the upcoming crowdsale will kick-off more opportunities for the Neurogress team. Neurogress will be utilizing 50% of the funds to work on further development of the project. As more money is obtained more technological developments will be made, pushing the project further down the roadmap. If Neurogress receives less money than anticipated they still will be on track relative to their roadmap, however a larger emphasis will be placed on the completion of neuro controlled experiments as these tasks will influence more funding.  
After development of the Neurogress ecosystem, software, and marketplace occur, the Neurogress team will collaborate with leading manufacturers across multiple industries to implement neurocontrolled system integration into devices that industries utilize everyday. Neurogress also plans on creating a marketplace for users to buy and sell "handcrafted items" that can be controlled by the neurogress software.   
Roadmap
The Neurogress team developed a well thought out roadmap for the projects future. The team understands the direction they want to go and deadlines to complete certain tasks. One aspect of the roadmap that astonished me was the flexibility provided by the roadmap. If one task or objective is delayed later than expected it will be ok as the Neurogress team will have opportunities to get ahead of the roadmap later. The roadmap is clear and concise making it easy to understand the process that the team is going through before ensuring that their project and ultimate goal is complete.
To view the Neurogress roadmap click here. If you wish to look at a more articulated version of the company's roadmap feel free to look at their WhitePaper where each step is defined and detailed further.
Token Use
The use of NRG tokens will be carried out as an internal currency for payments in the marketplace.
All of the purchases of software or devices in the marketplace

To pay for work of developers writing code for the needs of the neurogress based projects

To carry out contracts between customers and contractors to provide services for writing additional software, design applications and/or device prototypes.

To pay for work of users and developers who participate in the improvement and training of algorithms utilized for the platform, as well as to create a database of neuro-algorithms.
Use of Funds
Funds raised through the crowdsale will be distributed as follows: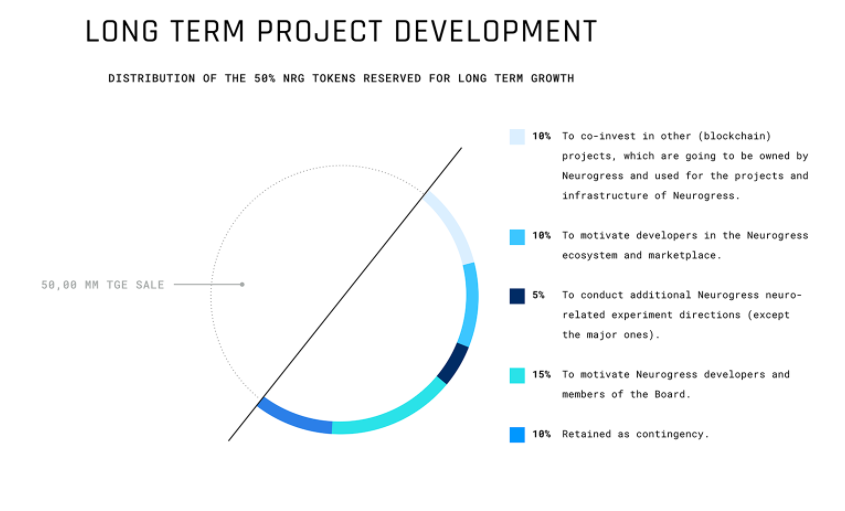 Team
The Neurogress team consists of 12 members. Almost everyone on the Neurogress team possess a technical, or scientific background. Many members of the team are neuroscientists and engineers. The team contains members of which who are passionate about mechatronics and the implementation of neuroscience for the future. The neurogress team possesses a long history of technical experience. Thanks to the diverse backgrounds of the team members inside of the technical fields, I feel as if the Neurogress team is capable of starting the next big movement in technology.
Konstantin Gorbunov: Chief Executive Officer (LinkedIn)
Aleksander Ovcharenko: Chief Technology Officer (LinkedIn)
Advisors
The concise number of advisors will help ensure to not dilute the message and positioning of the venture.  The current advisors of Neurogress possess significantly less knowledge in the neuroscience and engineering space compared to members of the team. The three advisors of Neurogress contribute more so on the business side of things as they are skilled in strategic business development, marketing, and business legal advice
Strengths
Neurogress is at the forefront of an industry that is going to be expanding exponentially

The team is filled with competent individuals who have plenty of experience in the space

The Neurogress roadmap is clear and detailed allowing investors to understand the path that the company is on

The Neurogress team have successfully performed movements with neuro controlled dummy prosthetics.

The Neurogress ecosystem and marketplace will allow users to get their hands on software and technology that has never before been offered by the public.

Manufacturers and designers can collaborate with Neurogress to develop specific devices.

Markets for supplementary objects such as robots, prosthetics, virtual reality, and smart homes are expected to increase rapidly. Neurogress will be able to participate in these markets.

As Neurogress achieves internal success it also plans to branch into something larger such as using robots in space and creating an institution for neurocontrol.

There will always be a demand for this technology throughout the foreseeable future.
Weaknesses
The vision for the project is super cool, but also may be far fetched. If you are an investor who likes to bet on a sleeper this is it.

Neurocontrol trials and development have just begun, not much experimentation has taken place yet.

Legal implications will have to be put in lace to account for devices that cause harm or death to others due to algorithmic errors.

This is a space that hasn't witness much success yet so no precedent has been set for a company like Neurogress to follow.
Conclusion
Neurogress is a company that you can't help but get excited about. The vision for neuro controlled devices is easy to get attached too. As technology continues to advance, the implementation of neuro controlled devices is not far away and this is a company essentially at the forefront of the neuro movement. Markets where neuro controlled devices are projected to be in demand are estimated to grow at a rapid pace. For example, the robotics market place has been estimated to increase to 226.2 billion by 2021. The prosthetics or exoskeleton market place is set to emerge in the near future with a market cap of 3.5 billion by 2030, and the virtual reality market will increase to 300 million by 2025. Neurogress provides a clear roadmap that details their plans for early successes by 2019 but also provides a vision for larger success by implementing technology and organizations such as: cybersuits, cyber-sports robot teams, and the Institution of Neurocontrol
We list the Neurogress ICO at a speculative buy as we believe that Neurgress can achieve tremendous success if all goes well, however, due to the long timetable and development of new technology, this is an investment that will need to be watched closely to ensure they are still on track to succeed. Legal implications be have to be enforced as technology like this has never been utilized publicly before and may cause governments to interact.
---
CryptoCoinMastery's Overall Letter Grade For Coinvest (COIN): B
A = 9-10 points | B = 7-8 points | C = 5-6 points | D = 3-4 points | F = 0-2 points
(points explanation coming soon!)
---
Disclaimer
This report has been compiled by CryptoCoinMastery. CryptoCoinMastery is an independent provider of cryptocurrency ICO reviews. We have not been paid, nor mandated to perform this research report. The views demonstrated in this report are CryptoCoinMastery's views in its entirety.
The contents of this report have been prepared without taking into account your personal objectives, financial situation, or needs. Due to this before you take action to acquire or deal in, or follow a recommendation (if any) in respect of any of the financial products or information mentioned in or downloaded from or through this website, you should consult your own investment adviser to consider whether it is appropriate having regard to your own objectives, financial situation, and needs.
While CryptoCoinMastery believes the information contained in this report is based on information which is considered to be reliable, its accuracy and completeness are not guaranteed and no warranty of accuracy or reliability is given or implied and no responsibility for any loss or damage arising in any way for any representation, act or omission is accepted by CryptoCoinMastery. The information within this report is our own opinion only and is not to be used in making a decision for investment.